Section 106: National Historic Preservation Act
National Historic Preservation Act Consulting Parties Meeting
The Federal Highway Administration (FHWA) and the State of Hawaiʻi Department of Transportation (HDOT) held a virtual meeting for the Section 106 Compliance for this Project's pursuant to 36 CFR § 800.2.
This meeting discussed the Section 106 Programmatic Agreement being prepared and asked for the community's manaʻo on historic and cultural properties in Olowalu and Ukumehame.
Virtual Meeting Details:
Thank you for attending our virtual meeting.
For those unable to attend, the presentation will be available for reference soon.
Meeting included a short presentation reviewing project status, field work findings, and current state of the Programmatic Agreement Draft.
Attendees had the opportunity to provide input and voice concerns related to historic and cultural sites in and around the project area.
Area of Potential Effects (APE) Map with Proposed Alternatives: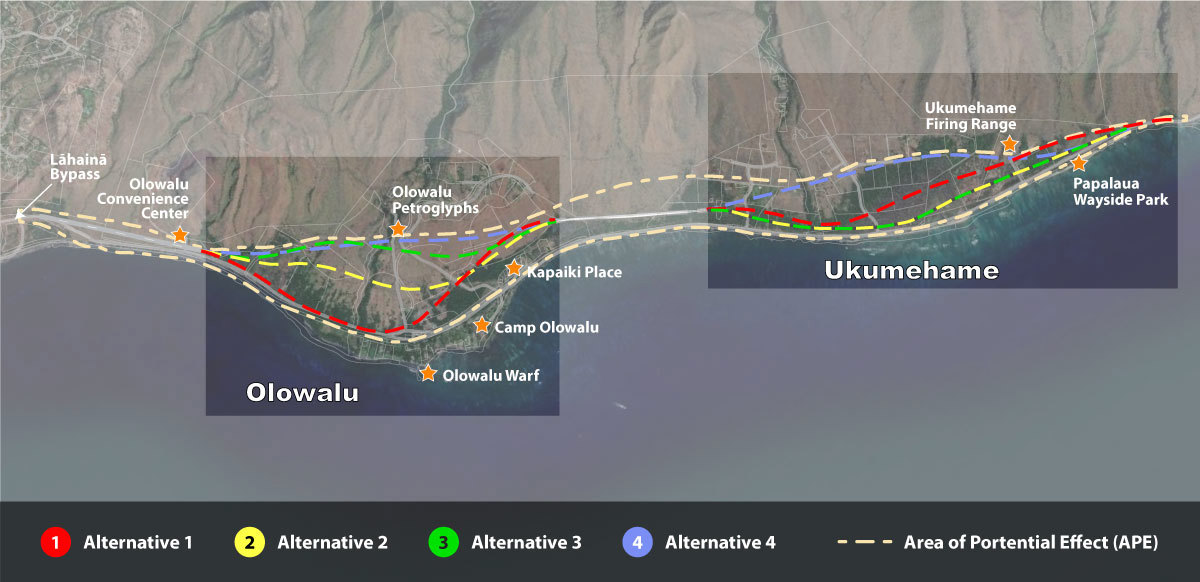 Click Map to Enlarge
The Area of Potential Effects is a geographic area where an undertaking may directly or indirectly cause alterations of historic properties, if any such properties exist. Proposed alignments, adapted from the Maui County's Pali to Puamana Plan, converge at serval points in two distinct areas, where the alignments differ from one another, Olowalu and Ukumehame.
The preferred alternative may be selected from two differing proposed alternatives one in each of the two differing areas.
Submit a Comment
Please use the form to submit a general question or to comment on the Environmental Process.
If you'd like to mail your comment, you're welcome to use this form.

Thank you for being a part of the process!
To request language interpretation, an auxiliary aid, or special services (e.g. sign language interpreter, materials in alternate format), please contact Ms. Genevieve Sullivan: Genevieve.h.sullivan@hawaii.gov.
Please submit requests one week in advance of the meeting or event.
Section 106 Timeline
2023

January: Federal Notice of Intent (NOI) and State Environmental Impact Statement preparation Notice (EISPN)
January: SHPD / NHO / Consulting Parties Initiation
July: 1st Draft PA for Review
July – December: PA Review Cycles
December: PA Finalized and EIS Comment Period begins

2024

June: Final Environmental Impact Statement Published
June – early 2025: AIS / Subsurface Investigation

2025

August: Construction Begins